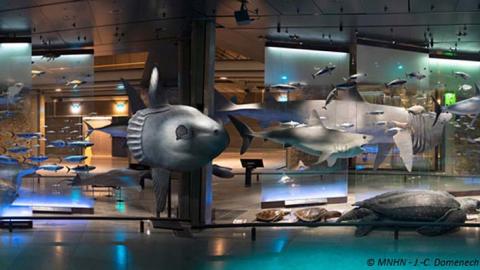 Alliance Sorbonne Université
Research
The Ocean Forum: A Challenge for European Scientific Expertise
The National Museum of Natural History, in partnership with the Ocean Institute of the Sorbonne University Alliance, is organising three days of round tables to raise public awareness of the issues related to the knowledge, importance and preservation of the Ocean. The Ocean Forum is open to the public upon registration, and will be live streamed.
English translation will be available on the first two days of the event, in person.
From March 2nd to March 4th

08:30 - 18:00
Wednesday morning, 2 March: auditorium of the International Conference Centre of Sorbonne University, Pierre and Marie Curie campus
From Wednesday 2 March afternoon to Friday 4 March: Verniquet amphitheatre located in the Jardin des Plantes, MNHN
On the morning of Wednesday 2 March, Bruno David, President of the MNHN, will open the forum at the auditorium of the International Conference Centre of Sorbonne University. He will be joined by Nathalie Drach-Temam, President of Sorbonne University, as well as political and academic representatives. Olivier Poivre d'Arvor, ambassador for maritime issues, will present the commitments made at the One Ocean Summit to the public. His speech will be followed by a round table on the innovative actions developed by young French and Portuguese companies around the Ocean. The morning will continue with a conference by Bruno David, entitled "The ocean: the unknown."
From the afternoon of March 2 to March 4 inclusive, the Ocean Forum will be held in the Verniquet Amphitheatre of the Museum (Jardin des Plantes) and will offer the general public conferences and round tables on current scientific and societal issues relating to the ocean.
On March 2 and 3, three thematic sessions will be held: "The ocean and global changes", "The ocean and new frontiers of knowledge", and "Ocean, science and society," with an introductory lecture by a leading scientist and two round tables for each session.
On March 4, "Franco-Portuguese visions of the ocean", will be more specifically dedicated to exchanges and cooperation between France and Portugal in the field of the ocean, on subjects such as blue growth, algae, marine waste and marine biodiversity.
Registration
These sessions will be videoed and simultaneously translated into French/English (days 1 and 2) and French/Portuguese (day 3).