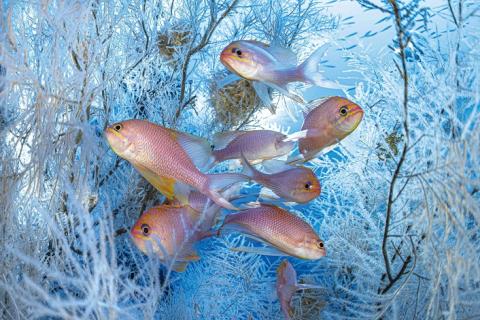 Alliance Sorbonne Université
Public Outreach
Photo Exhibition: "The Ocean is Alive!"
The Ocean Institute of the Sorbonne University Alliance and the City of Paris are organizing a photographic exhibition, "The Ocean Is Alive!" from February 15th to March 15th, 2022, on the banks of the Seine in Paris.
From February 15th to March 15th
On the banks of the Seine, between Pont Neuf and le Pont au Change
This exceptional photography exhibition will run for a month, on the banks of the Seine. It brings together contributions from non-governmental organizations1, an international marine protected area2 and eight research structures,3 including three marine stations and two laboratories from the Sorbonne University Alliance involved in the Ocean Institute: 
The Roscoff Biological Station, the Banyuls Oceanological Observatory and the Villefranche Institute of the Sea (Sorbonne University/CNRS) ;
The Jean Le Rond d'Alembert Institute (Sorbonne University/CNRS);
The Institute of Systematics, Evolution and Biodiversity (MNHN/Sorbonne University/CNRS/EPHE/University of the West Indies).
The 30 photo panels on display are intended to arouse wonder, but above all to raise awareness and encourage everyone to be more concerned about the consequences of our anthropic activities at sea.
---
1 Laboratoire NeuroPSI de Paris, Institut de Systématique et Evolution biologique à Concarneau, laboratoire Informatique et Systèmes de Toulon, laboratoire Marine biodiversity, exploitation and conservation de Montpellier
2 Bloom, Cétamada, Longitude 181, Sea Shepherd France et Surfrider
3 Sanctuaire Pelagos