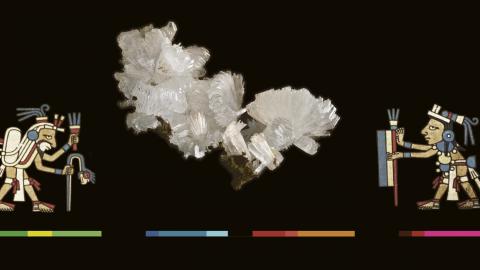 Mexico: Mineral Stories
An exhibition to discover at the Sorbonne University Mineral Collection.
From September 8th to December 4th

11:00 - 18:00
From September 8th to December 4th 2021 
(Tuesday-Saturday, 11am-6pm)
4 place Jussieu 75005 Paris
Minerals occupy a central place in the history of Mexico, from the Olmecs of 5,000 years ago to today's researchers. Sacred and functional for the civilizations of Mesoamerica, minerals were then coveted by the Spanish conquerors. Since then, they have become a source of industrial and economic development for Mexicans, while remaining objects of research for scientists and aesthetic contemplation for amateurs.
Combining mineralogy and archaeology, these "Mineral Stories" are divided into eight presentations: anthropological and sacred, historical and political, mining and social, scientific and aesthetic. Archaeologists and mineralogists from the Sorbonne University Alliance have joined forces to bring together pieces that highlight all aspects of this complex relationship with the Earth, throughout human history.
Curators
François Cuynet: Director of the Research Center on Pre-Hispanic America (CeRAP) - Sorbonne University
Jean-Claude Boulliard: Director of the mineral collection - Sorbonne University
François Gendron: Head of the American collections of the Muséum national d'histoire naturelle and the Institut de Paléontologie Humaine.
Museo-scenography : Agence ABAQUE
Acknowledgements
This project is based on the mineralogical and archaeological collections of Sorbonne University and the National Museum of Natural History, supplemented by the loan of prestigious objects from the Art and History Museum of Brussels, the Museum of Ephebia and underwater archaeology of the City of Agde and several private collectors.
At the initiative of the Centre de Recherches sur l'Amérique Préhispanique and in celebration of the partnership between Sorbonne University and the Universidad Nacional Autónoma de México, the exhibition takes place at the mineral collection of Sorbonne University, hosted by the Institute of Mineralogy, Physics of Materials and Cosmochemistry (IMPMC).