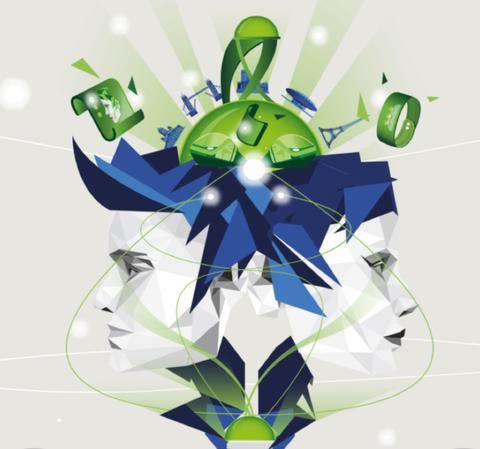 Master's in Cloud and Network Infrastructures (CNI - EIT Digital)
Course duration:

Two years

Language of instruction:

English

Course locations

: France, Finland, Germany,

Italy,

Sweden
Programme Overview
The CNI master's in an interdisciplinary graduate programme designed to give students a comprehensive overview of network and cloud computing. It also equips them with practical skills in, for example, edge and fog computing, blockchain technology, distributed ledgers, and next generation wireless technologies. To enhance the learning experience, the programme also includes an opportunity to apply new skills and knowledge towards creating new products and services – even help bring them to market.
Programme Outline
CNI is a two-year master's programme:
The programme combines courses with face-to-face workshops, group activities, and hands-on exercises. It covers a range of topics, including network management, operation, and design; cloud service and deployment models; implementation strategies; and application design.
Students study one year at an 'entry' university and one year at an 'exit' university. Each partner university in the programme proposes an exit with a specialisation:
Beyond 5G (University of Trento, Italy)

Cloud & distributed computing (Technical University of Berlin, Germany)

Mobile networking and cloud services (Aalto University, Espoo and Helsinki, Finland)

Networked intelligence (KTH Royal Institute of Technology, Stockholm, Sweden)

Smart mobility systems (Sorbonne University, Paris, France)*
 
Year 1

The first year is similar in all entry universities (including Sorbonne University). It focuses on basic courses (cloud & computer networks) that lay the foundation for the more technical courses to be chosen later as students will have the option to take elective courses. Students are also introduced to business development and management during this first year and are taught how to prepare and present a convincing business plan. During the second semester, a design project is combined with business development exercises to demonstrate how technology can be transformed into a successful business.

Following year 1, a summer school programme is organised to address business opportunities within a socially relevant theme.

Year 2

The second year is focused on a specialisation and a graduation project. The graduation project includes an internship at a company or a research institute and culminates in a master's thesis with a strong innovation and entrepreneurship dimension.

*The exit at Sorbonne University provides advanced courses in smart mobility systems. Courses are taught jointly to students of the EIT programme and other students from Sorbonne University's Graduate Department of Computer Science.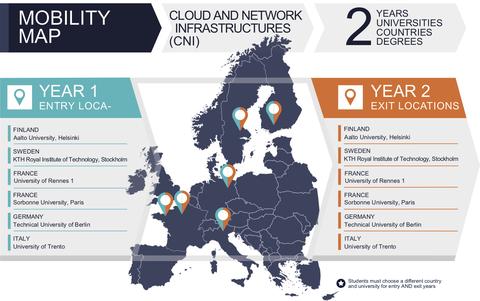 Students who successfully complete the two years of study will earn postgraduate degrees from their entry and exit universities, in addition to a certificate of completion awarded by the European Institute of Innovation and Technology (EIT).
Entry Requirements & Admissions
The programme is open to applicants with a bachelor's or who are in their final year of undergraduate study majoring in computer science, computer engineering or information systems. Applicants should have a basic understanding of mathematics, computer science, algorithms and data structures, software engineering, database systems, computer architectures, computer networks, and operating systems. In some circumstances, relevant work experience may compensate for a lack of relevant degree. Such work experience should be justified the applicant's cover letter. 
Additional information about applications, admissions criteria, deadlines, fees & scholarships can be found here.
Benefits of attending the programme
Acquiring theoretical skills, as well as the ability to analyse and discuss a scientific paper, to choose and implement appropriate methods to solve a concrete problem related to images, to give oral presentations and to write scientific reports.
Learning to work independently as well as in a team, to identify and seek appropriate resources for advancing work, and to take initiatives.
Securing roles such as network designers, network planners, ICT managers, Cloud CTOs, Cloud software engineers, lead software developers, cloud service brokers, cloud alliance managers, cloud infrastructure architects, business developers, product managers, consultants, etc.
Contact
Graduate Department of Computer Science
 Faculty of Science & Engineering, Sorbonne University