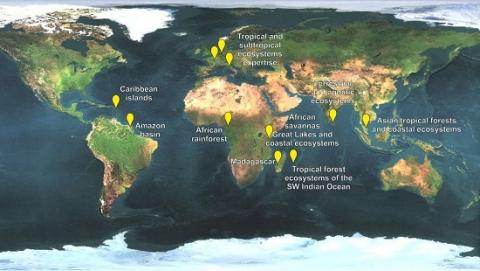 Master's Degree in Tropical Biodiversity and Ecosystems (TROPIMUNDO)
Course duration:

two years

Language of instruction:

French & English

Course locations:

Sorbonne University (Paris, France), Europe
Programme Overview
TROPIMUNDO is an excellence-labelled Erasmus Mundus Joint Master's Degree* funded by the European Commission. A consortium of 12 academic institutions with long-standing worldwide expertise in tropical rainforests and woodlands supports the programme:
8 in programme countries (European),
4 in partner countries (non-European).
The programme trains students in botany, zoology and integrative ecosystem studies to understand spatial and temporal patterns in tropical biodiversity. It focuses on combining theory, practice and independent research. Students will focus on how organisms interact with their environment and how they respond to perturbations and change. They will learn how to assess utilisation patterns, management and governance systems to rehabilitate tropical biodiversity and ecosystems and to conserve nature.
Upon graduation, students will be awarded a Joint Master's degree by the European academic institutions in which they sojourned to complete their course requirements. In addition, each student will receive a Europass Certificate signed by all the participating academic institutions involved in the programme.
* Erasmus Mundus Joint Masters are high-level integrated study programmes at the graduate level, that are designed and delivered by an international partnership of academic institutions from different countries worldwide.
Programme Outline
TROPIMUNDO is a two-year master 's degree (120 ECTS):
| | |
| --- | --- |
| Semester 1 | Sudents start at a European institution of their choice. The courses are mainly the same, allowing students to acquire similar competences. |
| Semester 2 | Field experience and courses will take place at a university situated in a tropical region. |
| Semester 3 | Students will attend courses allowing them to cover the specialisation that is proposed by the institution in which they will sojourn. |
| Semester 4 | This semester is dedicated to the Master's Thesis and students return to where they started out. |
Possible areas of specialisation involve:

Evolution of tropical flora and vegetation; faunistic assemblages; informatics tools to treat and manage biodiversity data and databases (biogeographical, genetical, geographical information systems) including the management and conservation of historic collections such as herbarium sheets; the study of diversity, dynamics and evolution of tropical and subtropical ecosystems (with a focus on four related systems, namely tropical rainforests and woodlands, mangrove forests, seagrass beds and coral reefs, including the interactions between flora, fauna, man and the environment within and between each of these adjacent ecosystems); conservation and restoration ecology of natural habitats and their biodiversity including competences in sustainable management and governance of biodiversity; and finally, tropical ethnobotany, exploitation and valorisation of natural resources and conservation of traditional ecological knowledge.

Academic institutions and possible trajectories
Entry Requirements & Admissions
An evaluation of the applications will be carried by the selection committee composed of all local coordinators.
In order to apply, applicants must hold:
an internationally accepted undergraduate degree in science from an accredited university (i.e. equivalent to 180 ECTS) with a major in biology, natural sciences, environmental sciences, or a related field. Prospective applicants can check the FAQ (below) to see which Bachelor's are likely to be considered.
 
Students must be able to demonstrate proficiency in English or in English & French. However, in the 1st and 3rd semester extra-curricular language courses are offered to improve language skills needed on the student's study trajectory.
Benefits from attending the programme
A mobility within Europe and a full semester mobility in situ including both classroom and field courses in the Caribbean, Amazonian, African, or Asian wet tropics.
 

A unique combination of courses and expertise.
 

A clear study trajectory in which fundamental understanding of one or multiple most-threatened ecosystems, or their components is coupled with research.
 
A full semester dedicated to working on a Master's Thesis in collaboration with TROPIMUNDO partners.
 
Intensive contact with different cultures and languages, which stimulates content and language integrated learning.
 
The possibility to be granted a TROPIMUNDO award (two annual prizes: TROPIMUNDO Best Student Award, awarded to the student with the highest overall course average & The Lorenzo Borella Memorial Award, awarded to the student with the highest thesis mark).