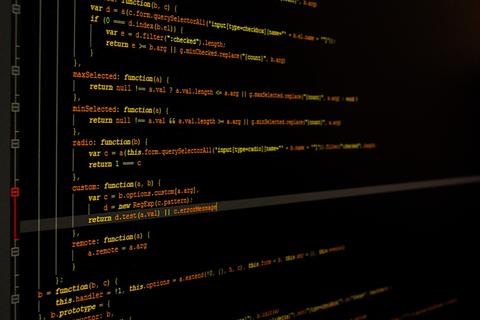 Master of Computer Science
The Master of Computer Science offers a high level of scientific and technical training oriented towards both research and business. The diversity of the fields offered is based on twelve courses.
Ten classic courses:
This program is completed by two particular courses:
Some of the courses offer international courses, either totally or partially in English (BIMM, CNI, DIGIT, HPC and IQ), while others offer apprenticeship courses alternating between companies (RES-ESIEE, RES-INSTA, SFPN-MSI, STL-INSTA).
New European Master's program in HPC
At the start of the 2022 academic year, the new European Master's program in High Performance Computing (EUMaster4HPC) opens, offered by SU's Computer Science and Mathematics Masters departments.
This new program will offer students exceptional career opportunities in scientific research or industry within the rapidly expanding field of HPC, or high-performance data analysis. More information on the dedicated page.

Objectives
The Master of Computer Science proposes to train computer scientists capable of adapting to the rapid evolution of information technologies. The proposed training program is the most complete of the universities in the Ile-de-France region. The diversity of the ten courses broadens the spectrum of conceptual and technological knowledge that will be mastered by students, owing to to a strong collaboration between the courses at the beginning of the training.
The teaching program of the Master in Computer Science has been designed in partnership with other French (Telecom Paris, ENSTA ParisTech, IRCAM, INSTA, ESIEE-IT, AFTI...) and European institutions.
The training is mainly based on the Paris Computer Science Laboratory (LIP6, one of the most important university computer science laboratories associated with the CNRS), and on other laboratories mentioned in the descriptions of each course. It is one of the most important European training centers in computer science.
Apprenticeship course
Several courses offer apprenticeship programs that allow students to work directly in the business world from their first year of the Master's program.
These courses, offered in partnership with a CFA (Centre de Formation des Apprentis), can be integrated from the first or second year:
International courses
The master's program offers several international programs that enable students to follow a complete course of study in English:
Organization
The Master's degree consists of four semesters, for a total of 120 ECTS. For semester 4, all students must complete an internship of at least 5 months, either in a laboratory or in a company. All the courses of the program have both a research and a professional orientation. Upon entering the program, the student chooses a pathway that defines the field of fundamental knowledge and technologies that he or she wants to master. Typical courses are defined in each program to help students make their choice according to their personal and professional objectives. The Master of Computer Science has been organized to encourage dual-skill training, with mathematics, physics, electronics and acoustics in particular.
International mobility
For students interested in an experience abroad, many opportunities for international mobility are available during the M1 or M2 internship: in Europe (Erasmus, 4EU+), Australia, Canada, USA, Japan, etc.
A list of the collaborations in which the Master of Computer Science participates can be found here.
There are many funding programs available to help financially with international mobility. These grants are managed by the International Mobility Office of the Faculty of Science and Engineering.
Innovation and entrepreneurship
It is possible to obtain the status of student-entrepreneur or student-entrepreneur, to benefit from the support of Sorbonne University and to access the exceptional Parisian startup ecosystem.
Target audience
The Master's degree in Computer Science is primarily intended for holders of a Bachelor's degree in Computer Science or an equivalent degree. Students with a Bachelor's degree in Mathematics and Computer Science or in Electronics may also be accepted in certain courses in the Computer Science field. Finally, students in their last year of engineering school with a computer science-oriented curriculum are invited to apply for the second year of the Computer Science major.
Opportunities
The vast majority of jobs open to students who have passed this Computer Science program correspond to study or research engineers in industry or services, which fall under the "study and development" job sector. However, the "production, operation and administration" and "maintenance, support and services" job sectors are also partially covered.
The chosen path defines the family of conceptual and technological knowledge mastered by the student.The top 5 types of positions held at 30 months are: 1. Software Engineer; 2. Data Scientist; 3. Consultant in computer security; 5. Software Developer.
The results of professional integration are excellent: at 30 months, the integration rate is more than 96%, the average search time is 1.5 months, and the percentage of executives is more than 99%. The level of satisfaction is excellent, particularly for the missions to be accomplished, the level of responsibility and the work environment.
Applications
Calendar and application procedures for Sorbonne University
Application address: sciences-master-info-candidatures@sorbonne-universite.fr
The application procedures are entirely paperless and do not require the submission of paper documents.
Documents to be provided
You will be asked to provide supporting documents.The list of these documents depends on your situation, but you can now prepare:
a one-page CV: summary of studies, internships, jobs, interests if relevant.
a letter of motivation: one to two typed pages, a personal letter explaining your course of study and a presentation of your professional or further study projects.
diplomas and transcripts from previous and current years.
for foreigners who have not studied in French: French language test B2 minimum, C1 strongly recommended.
The application procedure for the Master of Computer Science depends on your situation:
You are French, European or a foreigner outside the EU but have been living in France for at least one year:
You can apply between March 22 and April 18 via the national master portal (https://www.trouvermonmaster.gouv.fr/).
You are a foreigner outside Europe and do not reside in Europe:

Your country of residence is part of the Campus France network and you must go through its procedure. Your application will be rejected if you use eCandidat. Applications are open from October to December.
Your country of residence is not covered by the Campus France network: you can apply through the eCandidat procedure like a European student, but you will need to obtain a visa to come to France.
To orient yourself according to your situation as a foreign student, please refer to the CampusFrance website.

Contact
Olivier Fourmaux
Director
Romain Demangeon
Deputy Director, in charge of studies